National's Discontinued 3" Box Track
Are you looking for National's Discontinued 3" Box Track and discontinued and 42T trolleys?
Stanley National's discontinued 3" heavy duty track has inside dimensions of 3-1/4" tall by 2-7/32" wide.
National discontinued this size track system but we can help. Contact us!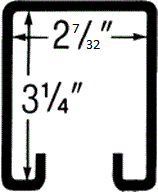 Below is more information about National's
Discontinued 3" Heavy Duty Box Rail Systems

We can help with replacement track for the 42 trolleys or
replacement trolleys for the 4112 rail system and 4114 rail system.


Additional information on the discontinued heavy duty 3" track size which we have another suppliers for:
No. 42 Hanger
For heavy sliding doors (up to 600 lbs. with 4114 rail and up to 1,000 lbs. with 4112 rail). Lateral and vertical adjustments.

No. 42T Truck

The same hanger as No. 42 without the door strap with standard 43⁄4" connecting bolt and two nuts for use on metal doors.
Also available with 51⁄2" bolt or without connecting bolt.

No. 4112 and 4114 Heavy Rails
Heavy gauge steel, press formed to provide perfect tread for hanger wheels. When using 4114 Rail, space brackets 24" apart on doors weighing up to 600 pounds. When using 4112 Rail, space brackets 18" apart for doors up to 800 pounds, and 12" apart for doors up to 1000 pounds. Previously available in 8 and 10 ft. lengths.

No. 41ED End Cap

Sturdy, snug-fitting end caps pressed into rail eliminate any bird or weather problems by keeping track free of foreign materials.

Heavy Rail Brackets
(For use with 4112 rail system and 4114 rail system)
41F Single Heavy Duty Track Bracket
41J Ceiling Heavy Duty Track Bracket
41JS Ceiling Heavy Duty Track Splice
41H Double Heavy Duty Track Bracket
41HS Double Heavy Duty Track Splice
CONTACT US FOR MORE INFORMATION ABOUT REPLACEMENT PARTS
FOR THE DISCONTINUED SLIDING DOOR TRACK SYSTEM ABOVE.